Wedding Destination
Tagaytay City Wedding 101
By Jonathan Dionisio
13 June 2011
When a soon-to-wed couple like you starts to plan for your wedding, aside from your hometown, one city always comes into mind - Tagaytay City, one of the most popular Philippine wedding destinations. Numerous couples and even famous celebrities like Raymart Santiago and Claudine Baretto and former First Daughter Evangelina Lourdes 'Luli' Macapagal-Arroyo could not resist exchanging vows in the Second Summer Capital of the Philippines. If you and your partner are also planning to say 'I do' to a Tagaytay City wedding, here are some pointers you need to know.
Welcome to Tagaytay
Tagaytay City is a second-class city in the province of Cavite, approximately 55 km away from Manila. It can be reached via the South Luzon Expressway or the Coastal Road Expressway (Manila-Cavite Expressway). There are buses in Cubao, EDSA, Pasay, and Baclaran that travel to this city on a daily basis.
Being a part of Cavite, Tagaytay also has its place in Philippine history. During the Philippine Revolution of 1896, Tagaytay became a place of refuge and hideaway for revolutionaries from the nearby provinces of Batangas and Laguna and other neighboring towns. At the outbreak of World War II, the 11th Ariborne Division, under the command of Lt. Gen. William Krugers, airdropped military supplies and personnel on the Tagaytay ridge, prior to the Liberation of Manila from the Japanese on February 3, 1945.
Tagaytay Church Wedding
If you wish to hold your wedding here, you are definitely thinking of either having a Tagaytay church wedding or a Tagaytay garden wedding. For Tagaytay church weddings, couples can choose from two churches, the Ina ng Laging Saklolo Parish (Our Lady of Perpetual Help Parish) and the Our Lady of Lourdes Parish.
The Lourdes Church is administered by the Order of Friars Minor Capuchin. Because it is very near to many Tagaytay wedding reception venues, most couples who are planning to tie the knot in Tagaytay choose to have their wedding ceremony in this simple yet spacious church. Its popularity among soon-to-weds made it very in-demand, thus bookings for weddings have to be several months in advance.
Another popular church wedding venue is The Transfiguration Chapel, simply known as Calaruega Church. Although it is located in Nasugbu, Batangas, due to its proximity to Tagaytay City, many soon-to-wed couples choose to have their wedding ceremony here and their wedding reception in Tagaytay.
Tagaytay Garden Wedding Reception
The main highlight of a Tagaytay City wedding is the wedding reception. You can choose from numerous wedding reception venues like hotels, restaurants, and clubhouses that have landscaped gardens filled with lush greenery. Popular venues include Josephine's Restaurant, One Tagaytay Place Hotel Suites, and Tagaytay Country Hotel (To see our complete list, visit Kasal.com Wedding Resources – Reception Category.)
Apart from being a wedding reception venue, these can also serve as the ceremony venue for your non-Catholic wedding or civil wedding. If you intend to have your wedding ceremony and reception in one venue, make sure you check the maximum capacity for your chosen venue. Normally, Tagaytay garden wedding venues can accommodate up to 200 guests, some less. In addition, most of these wedding venues offer complete wedding packages, which includes wedding catering services, bridal car rental, flower and event styling for the venue, wedding cake, and more.
Tagaytay Wedding Suppliers
Tagaytay City and the rest of Cavite have a good pool of wedding suppliers who can help you make your dream wedding come true. As local suppliers, they have done countless weddings on any of your chosen wedding ceremony and reception venue, making them very familiar with the regulations, restrictions, and necessary arrangements that needs to be done prior to your wedding day.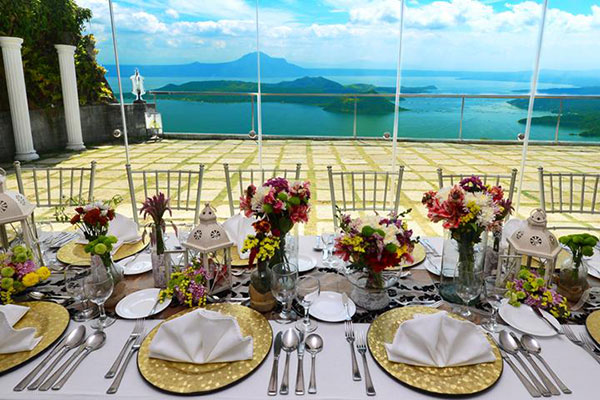 . . . . . . . . . . . . . . . . . . . . . . . . . . . . . . . . . . . . . . . . . . . . . . . . . . . . . . . . . . . . . . . . . . . . . . .
Kasal.com would like to acknowledge the following sources for this article:
The Splendor of the Church. Our Lady of Lourdes Parish in Tagaytay City (Posted August 16, 2008)
http://thesplendorofthechurch.blogspot.com/2008/08/our-lady-of-lourdes-parish-in-tagaytay.html
Salud, Jose Pablo, Balikabayan (Asian Journal). Tagaytay - Heaven on Earth (Posted February 18, 2010)
http://www.asianjournal.com/balikbayan/balikbayan-journal/4606-tagaytay-heaven-on-earth.html
Tagaytay City Official Website. History. Retrieved September 1, 2010 from
http://www.tagaytay.gov.ph/Gen%20Info%20-%20history.html